Royal Credit Union Aquabug 'Medallion' Contest 2023
Aquabug Medallion Contest:
THE 2023 AQUABUG HAS BEEN FOUND!
Winner will be awarded the Prize Sunday June 11 at Roux Park following the Grand Parade.
The Aquafest committee and Royal Credit Union congratulate Brian and Dorothy Rohland from Bloomer for finding the 2023 Aquabug medallion. They found the "bug" hiding in the Archery Park located off Lindy Street in north Rice Lake.
Brian has followed clues for fifteen years-he was a winner back in 2014-when he found the medallion hiding in the area near the Lumbering Hall of Fame. This year was special he wrote as his wife Dorothy was available to hunt with him.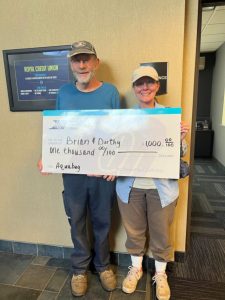 The clue that leads to this year's prize was released on Friday morning-
"When hauling your goods, you might need a crack of your back…
Cruisin' trails for the bug and stopping for milk. gas, and a snack…
Going left which is north skip the weights and the booze…
Are you "Tire"ed yet? No! Your "Bug Team" just can't lose!…
"As a seasoned hunter you always have to look ahead following the basic rules of hidden on public property…"
The winners intend to use the $1,000 cash for camping trips.
The prize was awarded on Friday, June 9 at Royal Credit Union by Allie Van Gilder-Member Account Representative as the winners were not available for the presentation on Sunday at the Aquafest Awards Presentations at held at Art in the Park following the Grand Parade.
The Aquafest Committee would like to thank Royal Credit Union for sponsoring the contest and local radio stations, WJMC, WKFX, and WAQE for airing the daily clues and the webmaster for posting the clues electronically on social media the official Aquafest Website.
Thanks for participating in the contest and Royal Credit Union for Sponsoring the contest.
Join in the celebration of the 2022 Aquafest celebration and hunt for the Royal Credit Union Aquabug Medallion. The 'bug' is hidden on public property within the Rice Lake Area School District. Clues are posted at 10:30am and 3:30pm daily at the Royal Credit Union Rice Lake office, announced on radio stations WJMC, WAQE, WKFX, and placed on the official website (www.aquafestonline.com) as time allows.
The finder receives $1,000 in cash, if turned in with-in 12 hours of finding and is wearing an Aquafest button. Non-members or RCU members in good standing are eligible. Please respect public property as you hunt for this year's 'bug'.
Aquabug Clues:
Clue #1 / June 2, 2023 / 10:30am:
The skeeters and ticks, yes they're up this year,
But there's still only one "Bug", a bug no one fears…
Find the Bug with these clues and you get the cash…
So start where dollars disperse, and go East with a dash!…
Clue #2 / June 2, 2023 / 3:30pm:
Heading East on the Beach,
And a stitch to keep time…
Keep "Head'ing to the "Start"…
Past the O sign!  ..
Clue #3 / June 3, 2023 / 10:30am:
Round and round, about you go…
go right or south is the "tern" which will rhyme…
Is the bug in storage, or does it have a "nurse's glow"?
No matter what, you'll need to be in your Prime!…
Clue #4 / June 3, 2023 / 3:30pm:
A night out at the Lake…
Where the glow is not fake…
Going West not East, or is it East South to Our House?
"Little" do you know, it's the "Bear" not the mouse…
Clue #5 / June 4, 2023 / 10:30am:
Straight as an "Arrow" with Fleet of feet you go…
With burgers and "buggies" together you know…
Right is right, and north is correct…
Get your gas now because the bug journey is set…
Clue #6 / June 4, 2023 / 3:30pm:
Cash when down on your luck…
And where Solutions are made…
Fill your bucket for a buck…
Potter your flowers in the shade…
Clue #7 / June 5, 2023 / 10:30am:
Lodging when you are "on a budget"…
Or maybe time for one of the best breakfasts…
It's all about being "thrifty", and waiting for pins to set…
Because Quality is Just Miles, when you reach Paradise at last!
Clue #8 / June 5, 2023 / 3:30pm:
It's Great to be Outdoors!…
And we deliver in brown…
For fun on the trails or lake,
It's always great to monkey around!…
Clue #9 / June 6, 2023 / 10:30am:
Time to get serious, go left at the lights…
No shooting allowed no stopping for a ring…
Are those brown trucks parked on the right?
Only after turning left, going south, does the path us bring…
Clue #10 / June 6, 2023 / 3:30pm:
Are these clues harder than "steel"?…
Will we learn what's real?…
Do these clues have a bug "link"?…
Right, West on South is the Action, I think!
Clue #11 / June 7, 2023 / 10:30am:
Past the Meadows and Commons…
Left to learn on the Drive…
Round we go can just be "Perfect"…
"Behind the couch" in front of "Good" buys!…
Clue #12 / June 7, 2023 / 3:30pm:
"O" what a journey, over the bridge we go!…
Right again, this time on South W if you can…
You will "see" whether the route is possible or slow…
Maybe by "bike" you can continue, but helicopter might be the plan!…
Clue #13 / June 8, 2023 / 10:30am:
Yes, by copter for a bit it has to be…
Going north left of running water you'll see…
A Buck on the right, and a cross on the left…
You've come to the lights, go left or straight, that's best!…
Clue #14 / June 8, 2023 / 3:30pm:
Heading to youth, heading to learning…
Do you still go north, or right?…that's concerning…
Parking galore on your right and on your left…
So go past the fields of play, up to the lights where you might "rest"!
Clue #15 / June 9, 2023 / 10:30am:
When hauling your goods you might need a crack of your back…
Cruisin' trails for the bug and stopping for milk. gas, and a snack…
Going left which is north skip the weights and the booze…
Are you "Tire"ed yet?…No!…Your "Bug Team" just can't lose!…
Clue #16 / June 9, 2023 / 3:30pm:
Holy sheet we are close!…is the bug on the grounds?…
Time again to clean and to fuel and to play with what's round…
Past those who rest, and don't turn for the meat…
Coming up go right, because going right is the right street!…
Clue #17 / June 10, 2023 / 10:30am:
Time to draw your bow!…
It's time to perfect your aim!…
Take the Genereau path you go…
But stay behind the fence…refrain!…
Clue #18 / June 10, 2023 / 3:30pm:
Danger!…Danger!…
Be sure to be smart past the parking lot!…
Becauee you're getting in "Range"…
From parking go West to the pines you'll have a shot!…
Clue #19 / June 11, 2023 / 10:30am:
You're at the Archery Range…
Twenty paces from blacktop to tree…
You'll have to reach up a bit for a change…
'Cause it's in the pine, up a bit, you'll see!…